BACKGROUND
As a child, Chris Moncourtois developed a love for fireworks during family vacations in South Carolina. While earning his MBA at East Carolina University, Chris started performing firework displays for large, nationwide fireworks companies. While working for other companies, it became very apparent that the large "nationwide" companies really focused all their effort on the larger displays that started at $20,000. All of the displays performed in North and South Carolina had much smaller budgets and were "pre boxed" displays that were all the same. All of the proposals were based on budget and offered two options. The displays were not very impressive.
WHAT MAKES US DIFFERENT
In 1989, Chris Moncourtois became fully licensed by ATF to purchase, store and fire firework displays. Working as an independent contractor allowed a deep knowledge of what other firework companies offered. Based on our knowledge of the fireworks industry, we pledged;
-To custom design each display. That each display would START with a large barrage of fireworks similar to a finale to increase the intensity of the display.
-Directly purchase fireworks from the manufacturers and only use the highest quality of shells which include patterns such as hearts, smiley faces, Palm Tree Shells, Willow shells. Class A currently has over 100,000 shells in stock.  Many of our firework shells are made to our specifications.
-When time permits, Chris Moncourtois will be present at each display
-Work with our suppliers to have truly amazing effects
-Continue to be a North Carolina Department of Insurance Instructor for the NC Pyro Licensing
Class A has performed firework displays for;
Warner Brothers – "We are the Millers"
Classic Films
Bobby Goodson – Swamp Loggers
North Carolina Governor's Mansion
University of North Carolina Wilmington
Dillion Motor Speedway
National Night Out
Weddings, Birthday Parties, Municipalities, Fairs and Festivals, Corporate Parties, Concerts etc.
We REALLY care about your display and strive to make sure we far exceed your expectations. When you call, you will speak directly with the company's owner Chris Moncourtois. We will then take your ideas and desires and transform it into a display that will a truly AMAZING event.
Just the Facts
Over 25 years of Experience
We file the necessary permits
We provide the required insurance for your display
Class A carries combined insurance policies totaling 8 million dollars
All of our display operators are State Licensed
We are one of a few companies that import Display Fireworks in the Southeast US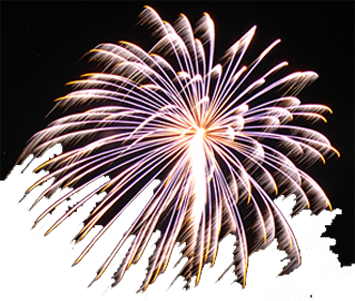 CALL US TODAY AT (910) 358-3593
If you are considering having fireworks to make your event SPECIAL or if you have any questions, feel free to give us a call. We are available 7 days a week.
GET A FREE QUOTE